At first sight, it is not hard to see why many artists fall in love with Bali and want to spend a life of pleasure in Ubud, an abode of magic.
Although our destination was Bali, we set aside time to visit Borobudur, one of the grandest Buddhist monuments in the world. It was built in the 9th century during the reign of the Sailendra Dynasty, who were firm followers of Mahayana Buddhism. It took about 30 years to build, using a million stones, with the story of the Buddhist cosmology beautifully carved in them. Borobudur has a long history before it became the glorious place that it is today, and a destination that Buddhists want to visit once in a lifetime. After that, we went to Ngurah Rai International
Airport, also known as Denpasar International Airport, heading to Ubud, a magical and mysterious place. This ancient town is in an embrace of the forest, rice fields, and Hindu temples. It is also home to world-famous handicrafts. Morning markets in Ubud are free from travellers — the only people there are the vendors making chanang for sale, using young coconut leaves, plumeria, ylang-ylang, hydrangea, desserts and rice, to pay tribute to the gods.  From Ubud, we continued to Bedugul and enjoyed the beautiful scenery along the way, where terraced paddy fields blanket the hills. Here, we visited Pura Ulun Danu Bratan, also known as Ulun Danu Bratan Temple, one of the most beautiful temples in Bali and one of the five most holy temples in all of Bali. This temple is even featured in 50,000-rupiah banknote. At this temple, the locals usually come to perform religious ceremonies, which shows how much faith they have in the place.
Ulun Danu Bratan Temple is located on the shores of Lake Bratan, which is a crater lake of a dead volcano, with majestic mountains in the back. Another must-visit spot is Pura Tirta Empul, a water temple built around a bubbling spring, regarded by the Balinese people as a holy place. The sacred spring is said to have been created by Indra, and the Balinese people believe that bathing in the sacred water brings good fortune and ward off bad luck, as well as heal illnesses. Before the bathing, there is a ritual to pay tribute to the god at a shrine, before they can take a bath in the holy water at the ancient bathing area, which was built in the 10th century.
While you're here, don't miss the local food. Indonesian food is known for its spices, which have made it a favourite worldwide. Signature dishes are nasi goreng, rendang, and shrimp satay, which we might not be familiar with. Still, many chefs head to Bali to open modern restaurants to spice up the 4 culinary scene in Bali.
SATAY FLAVOUR
Satay has become an Asian dish. Although it's available in most Asian countries, if you want intense satay flavour, Indonesia's restaurants have it.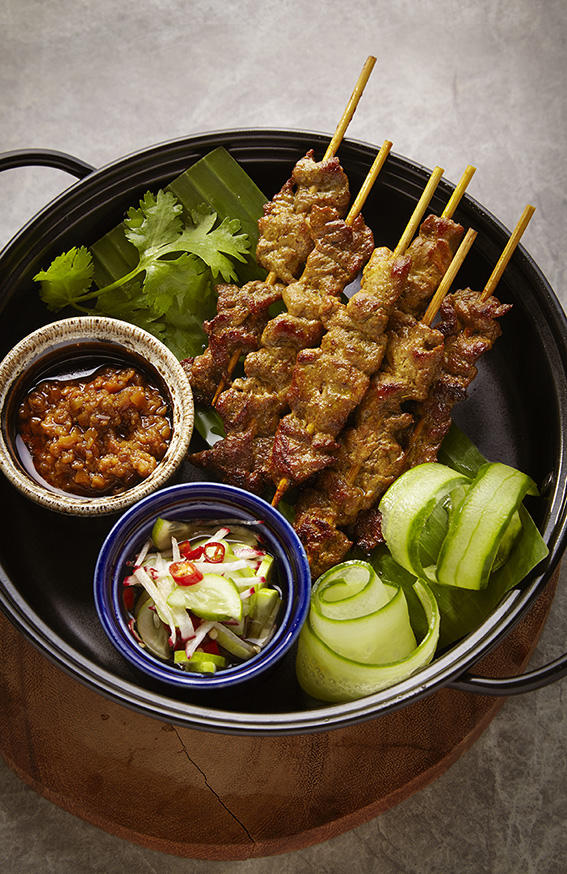 SHRIMP SATAY
At famous local restaurant Bebek Bengil or Dirty Duck, you can enjoy oil-stewed duck called Crispy Duck and shrimp satay.
Story and photography :  Ekarin Yusuksomboon Food photography : Pipat Jamrat